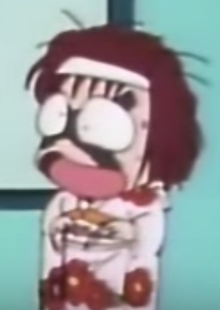 "WARP" (ワープ), or "Dimensional Wave Super Rotational Reaction Degradative Radius Jump Gravitational Field Super Light Speed Navigation" (次元波動超弦迎起縮退半径眺躍重力波超光速航法(?)), is a method for the movement of matter at faster than the speed of light derived from the theories of Tannhauser.
Scientific Explanation
Edit
By enlarging the radius of a Tannhauser Gate frozen within a ship's Degeneracy Generator, subspace can be made to envelop the entire ship, resulting in the ship's jumping through time and space.
In Gunbuster Science Lessons Episode 3, 「次元波動超弦迎起縮退半径眺躍重力波超光速航法」 is incorrectly written as 「次元波動超弦迎起縮退半経眺躍重力波超光速航法」. A correction and apology is displayed at the end of the episode.
Ad blocker interference detected!
Wikia is a free-to-use site that makes money from advertising. We have a modified experience for viewers using ad blockers

Wikia is not accessible if you've made further modifications. Remove the custom ad blocker rule(s) and the page will load as expected.