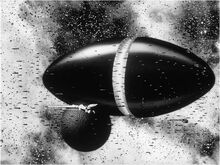 WARNING: THIS PAGE CONTAINS MASSIVE SPOILERS. IF YOU HAVE NOT FINISHED THE SERIES, DO NOT READ THIS PAGE. Edit
Buster Machine 3 is a superweapon developed during the war with the Space Monsters and designed to destroy the center of the galaxy. Also known as the "Black Hole Bomb", it is a gigantic bomb formed by compressing the planet Jupiter into a relatively tiny space and then triggering a chain reaction to create a black hole. Upon activation, it failed to detonate, forcing Noriko Takaya and Kazumi Amano to enter it in Gunbuster, rip out one of the mecha's power cores, and use it to start the reaction. This resulted in the two being left alone in space and isolated from humanity for 12,000 years.
Appearance
Edit
Buster Machine 3 is a 869 km long pill-shaped object. Inside is the planet Jupiter, compressed to a smaller size.
Ad blocker interference detected!
Wikia is a free-to-use site that makes money from advertising. We have a modified experience for viewers using ad blockers

Wikia is not accessible if you've made further modifications. Remove the custom ad blocker rule(s) and the page will load as expected.